Exercise is more than fun it's good for you !
"I have been involved in pre school activity classes since 1993, in that time there has been a great change in parents wants and understanding from when I opened my first site. Parents look for a fun and rewarding activity to keep the little ones busy, there is a good understanding from parents that exercise is a good thing, that develops their children's concentration and motor skills."
"Parents seem to be bombarded by the government and the media telling them what to do, they are told that, to much TV and poor eating habits are pushing up the rates of childhood obesity."
"So in today's ever demanding society parents are pressured more than ever to do the right thing. This in itself is a bit of contradiction in some ways as mums are encouraging to work and this means they have less time to spend doing activities with children and by being inactive it can lead to problems later in life."
"With this in mind Little Steps gym knows how important it is to offer parents a wide ranging time table whether it be afternoon classes for mums that work part time or weekend class's for full time working parents".
"In today's busy life it's amazing how much a 45-minute class can mean."
"A good habit learnt young is one that will stay with them through the whole of their lives."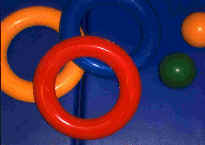 Tracey Griggs
(MD LITTLE STEPS GYM)
All material within this site is Copyright, and remains the property of Little Steps Gym LTD, Last revised: September 06, 2008.